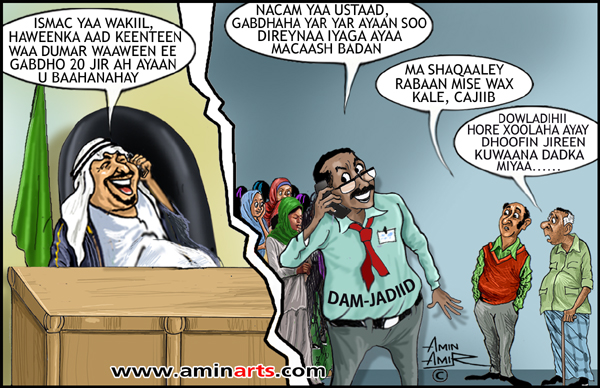 1st October 2023 admin Category :
January 2, 2017
Habib Toumi
Employment will be sponsored by recruiting agencies
(Gulf News) Manama: The general understandings of the convention regulating the recruitment of Somali citizens to work Saudi Arabia have been completed, a Somali diplomatic source said.
"The Somali labour minister will visit the kingdom soon to finalise the recruitment agreement that will see more than 10,000 Somalis move to work in Saudi Arabia in the first phase," the source that was not named said, Saudi daily Al Eqtisadiya reported on Sunday.
Negotiations between the labour ministries in the two countries have been going on for months to fine tune and finalise the agreements that will guarantee the rights of both parties regarding the recruitment, the source added.
"The Somali embassy in Saudi Arabia has received several applications from Saudi manpower agencies to recruit Somalis in several areas of specialisation. The recruitment of Somalis will be only through agencies and companies in the two countries and according to the conditions stipulated in the convention."
Several Somalis who worked in Saudi Arabia were recruited on an individual basis without roles for manpower agencies or a formal legal frame, often resulting in abuses.
In October 2015, Saudi Arabia's labour ministry said that it was opening the door for recruitment from Somalia, months after it allowed people from Djibouti to work in the kingdom.
In April, Somalia's Deputy Minister of Labour and Social Services Osman Libah Ebrahim said that the first phase of enlisting Somalis to work in Saudi Arabia would include 2,000 people, mainly domestic helpers and drivers, who would be sponsored by recruiting agencies.
Several Somalis said that the government should be wary of possible abuses of the workers and should ensure their rights are safeguarded.
However, Somali President Hassan Shaikh Mohammad stepped into the discussion to highlight facts on the ground.
"I am very sorry about how the debate on Somali girls was misjudged," he was quoted as saying by Somali media. "Our girls now journey alone without being ordered by the government; they are not tracked down by rights groups, and they take to oceans on human trafficking; they wade through conflict-wracked Yemen, and enter Saudi Arabia on foot," the president told the media.
The requirements of the Saudi labour ministry for recruiting Somalis include presenting certificates for a criminal records check and evidence of vaccination against contagious diseases.