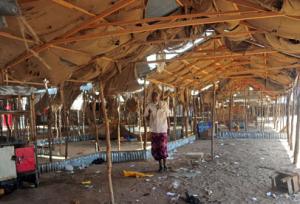 30th September 2023 admin Category :
Users, vendors, traders left bemused by government directive banning imports of the popular leafy stimulant.
Middle East Online
MOGADISHU – The rattle and honk of trucks carrying bales of the leafy narcotic khat have not been heard in Mogadishu since the government announced a surprise import ban this week.
Users, vendors and traders have been left bemused and angry by the unexplained government directive.
"You can't just say khat is banned without giving reasons or offering alternatives for people who depend on the trade," said Naciimo Abdiweli, a mother of five who sells the herbal stimulant at one of the many stalls dotted around the Somali capital.
Khat — also known as miraa — is a red-stemmed, green-leafed plant that has a mildly amphetamine-like effect when chewed, akin to one too many espressos.
Among Somalis it has long had social, cultural and religious uses but it is also frequently abused.
Traditionally, chewing was an afternoon activity for men, but increasingly they are also chewing in the morning, evening and throughout the night.
Addicts commonly spend all their money on bunches of leaves and waste hours in a stupor, green drool trickling from between brown-stained teeth. Doctors in Somalia have linked dependency to psychosis and paranoia.
– No explanation –
On Monday Somalia's government banned aeroplanes that are carrying khat from entering Somali airspace.
While it is enjoyed in Somalia, khat is grown in neighbouring Ethiopia and Kenya, both of which have large farming communities relying on its export for their livelihoods.
Contacted by AFP, Somalia's transport minister Ali Ahmed Jama Jangeli refused to give any reason for the ban. No explanation has been offered by any other government officials, leaving traders like Abdiweli at a loss.
"We've been told the government stopped flights bringing khat from Kenya and the market is empty now, but we don't know the reason," she said.
The Somali decision has upset Kenyan growers too.
"This is a big loss to us," said Dave Muthuri, chairman of the Kenya Miraa Farmers and Traders Association.
"Farmers are crying because of the loss they are incurring. It caught everyone off-guard," he added.
This week their crops — which must be transported fresh before the leaves wilt — have languished in sacks in Meru, where it is grown in Kenya's centre, and at the nation's Wilson Airport from where it is flown to Somalia.
Muthuri said no khat had left Kenya since Monday and that dozens of tonnes of the plant were going to waste. In Mogadishu, at the receiving end of the khat supply chain, business has ground to a halt.
"We are sitting on empty tables at markets waiting for news, but it seems the government does not want to talk to us openly about why they've stopped this business," said Ahmed Ugaas, a khat trader.
– Ban can't last –
But while some are concerned by the social damage done by khat, others believe it helps keep the volatile city calm.
"I believe that khat consumption played an important role in maintaining tranquillity," said Mohamed Abdisalam, a grocer.
"Most of the gunmen go and sit chewing every day from 11 in the morning, can you imagine what they will do when they don't have khat? They will go onto the streets and cause havoc!" he predicted.
Khat is banned in the US, Canada and most of Europe — all places with large diaspora Somali communities.
But no government or authority has ever succeeded in banning it in Somalia, not the military dictatorship, the warlords nor the Islamic extremists.
"It's a matter of days and then business will be back to normal", said Zakariye Mohamed, a regular khat consumer untroubled by the interruption in his supply.
"The military regime [of Siad Barre] was mightier than this government but they could not succeed in banning it. Even Al-Shabaab, who kill people, could not stop it," he said. "This thing is very tricky."