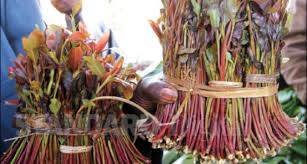 3rd October 2023 admin Category :
Saturday September 10 2016
By BRIAN MUREITHI
(Daily Nation) Kenya is engaging the Somali government to make it rescind its ban on miraa flights into Somaliland, Government Spokesman Eric Kiraithe has said.
Mr Kiraithe told the media on Friday the Ministry of Foreign Affairs had taken up the matter at senior level while President Uhuru Kenyatta will also engage his colleagues in the region.
"The government recognises that the ban has a severe socio-economic impact on the livelihoods of farmers in miraa growing areas. The government is committed to ensure the farmers do not suffer," he said.
Mr Kiraithe dismissed claims that the ban was triggered by Meru Governor Peter Munya's visit to Somaliland in July where he is said to have asked officials to allow the sale of the stimulant in exchange for some sort of "recognition" for the breakaway state by the Kenyan government.
Mr Kiraithe said foreign affairs matters are the preserve of the national government and governors have no role to play.
He said even when governors visit other countries to negotiate deals on behalf of their counties, they are given briefings by the Foreign Affairs ministry.
Mr Kiraithe said the taskforce on miraa will explore ways of raising income for the affected people to cushion them.
"The government recognises that a significant number of people enjoy the stimulant. No study has conclusively found that miraa is a narcotic. It is hypocrisy to purport to ban the miraa on this basis," he said.
He also announced Governor Munya's security detail would be reinforced following his claim that his life was in danger from miraa cartels after the ban.
Somali Ambassador to Kenya Gamal Hassan said earlier that Mr Munya's visit to Hargeisa, the capital of Somaliland, had forced his government to act.
"He linked the territorial integrity of the country to the miraa trade and interfered in our internal affairs. This has created a lot of unbearable pressure on the government. We have suspended the trade to address these matters," the ambassador said.
On Tuesday, planes with miraa worth about Sh60 million destined for Somalia failed to take off from Wilson Airport following the ban