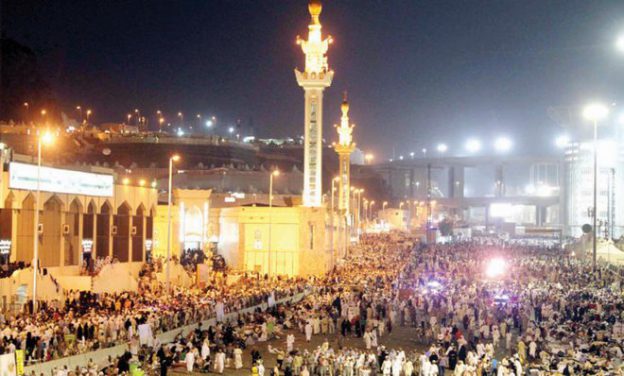 25th September 2023 admin Category :
MAKKAH: A gigantic wave of pilgrims, numbering hundreds and thousands, began streaming into the tent city of Mina as the sun went down on Friday.
With prayers on their lips, beads clutched in their fingers, water bottles in their hands, e-bracelets on their wrists and bags on their backs, they began the first leg of the five-day sacred journey known as Haj.
All the pilgrims will be in Mina on Saturday (Dul Hijjah 8) where they will spend the night in their air-conditioned, fire-resistant tents. From there, they will begin the trek to the plains of Arafat at the crack of dawn on Sunday (Dul Hijjah 9).
On Friday, Makkah was teeming with millions of the faithful preparing for the Haj rituals. Nearly 1.5 million pilgrims offered noon prayers in and around the Grand Mosque.
The sun was blistering and the weather harsh. Daytime temperatures on Friday hovered between 40° and 45° Celsius.
The government, led by Custodian of the Two Holy Mosques King Salman, has made unprecedented arrangements for the smooth and safe flow of pilgrims from Makkah to Mina to Arafat and back.
Addressing a press conference on Friday, Interior Ministry spokesman Maj. Gen. Mansour Al-Turki described the journey of pilgrims from Makkah to Mina as "the world's largest mass movement of people."
He said: "All arrangements have been made for the journeys of the pilgrims to be safe, secure and easy."
Haj Security Forces Commander Lt. Gen. Khaled Al-Harbi said it was an honor to serve the guests of Allah.
"It is a privilege bestowed by Almighty Allah on this blessed land, its honorable leadership and its committed people. We, Saudis, take great pride in offering our services to the pilgrims. We want to do all we can to make their journey comfortable," he said.
Before leaving for Mina, the pilgrims circumambulated the Holy Kaaba. Hundreds of buses and GMCs packed with pilgrims had come to Makkah from Jeddah, Riyadh and Dammam. Some went straight to Mina.
The pilgrims are excited and enthusiastic about what is the opportunity of a lifetime; many have made long and arduous journeys in their quest to attain this pinnacle of spirituality.
"We are following in the footsteps of our beloved Prophet, peace be upon him," said Abrar Mustafa, from Rawalpindi, Pakistan. "The Prophet directed us to undertake this journey and so we are here, having traveled hundreds of kilometers to be in this holy land."
"We don't come here with fear in our hearts," Naouri Abdelkarim, 50, of Casablanca, Morocco, said to AFP.
At the Grand Mosque, officers in red berets and camouflage uniforms stood beside green plastic barricades in order to control the massive surge of pilgrims.
The majestic and sprawling mosque was packed with the faithful long before noon prayers.
A Toronto-based academic, Mohammed Ayub Ali Khan, said he found it extremely difficult to get into the mosque.
"Most of the doors that lead into the mosque were shut, but I did not give up. I kept walking and eventually found an open door and a quiet spot," he said, and exclaimed: "Alhamdulillah."
If one had been looking from above, the white-clad throngs, called ihraam, would have made the open area around the Holy Kaaba look like a snow-covered field.
Worshippers overflowed into surrounding streets, which were shut to allow access for hundreds of thousands of people as a helicopter monitored the scene.
"They told us not to stray from our group, not to linger when buses arrive and depart, and to properly follow the designated routes," said Rasha Mohammed, 36, of Alexandria, Egypt.
"Each pilgrim wears a bracelet which carries a barcode readable by smartphone. It holds data which gives the pilgrim's identity, nationality, and place of lodging in Makkah," said Issa Rawas of the Ministry of Haj and Umrah.
A5ab news