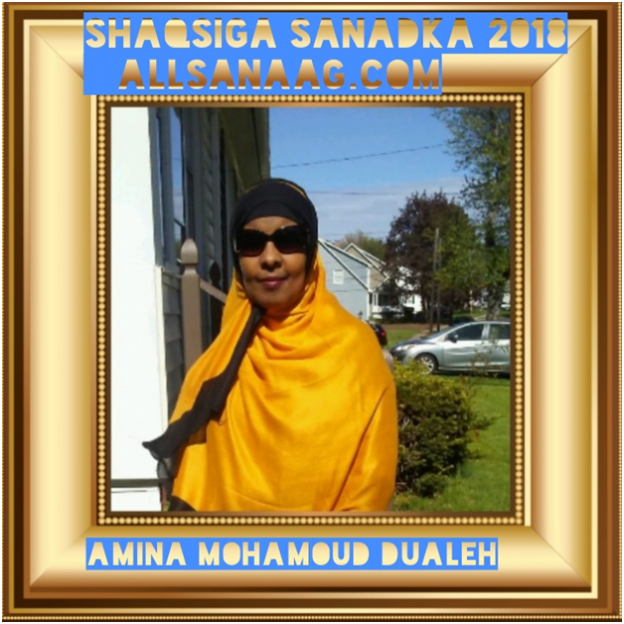 2nd October 2023 admin Category :
 Allsanaag Person of the Year 2018:
Amina Mohamoud Dualleh (Amina Kiin)
By Allsanaag Editorial
Each year, the editorial board of Allsanaag and its members recognize an outstanding individual or organization that has positively contributed to the community's betterment in education, healthcare, environmental awareness, economic development, and fostered a culture of peace through dialogue.
Thereafter, the board carefully proceeds with the selection process of potential nominees, finally revealing the winner of the influential award.
It has been said that a "Woman who follows the crowd will usually go no further than the crowd. The woman who walks alone is likely to find herself in places no one has ever been before."
Amina Mohamoud Dualleh graduated from Somali National University with a Bachelor's degree in Journalism and moved to the United States in the early nineties to further her education.
Although her arrival in America coincided with the devastating outbreak of the Somali civil war in 1991, she nevertheless managed to continue her education despite the ongoing conflict in her homeland. She obtained a Bachelor's degree in Clinical Laboratory Science, diploma in Certified Teacher Assistant, and she is currently studying for a Master's degree in Mass Communication and Media.
The chaos that ensued after the civil war in Somalia, forced her family to flee the country. Like most of the Somalis, they fled into the neighboring countries.
Painfully, Amina recollects those difficult and disconsolate years that she had been away from her family during a time when they needed her most. The guilty feeling of not being able to help them and the country that she had left behind, heavily weighed on her for a long time.
The civil war in Somalia wreaked havoc on government institutions-basic pillars of human development. Therefore, the lack of effective central government and the absence of any viable institutions meant that the most vulnerable among society, especially the children and elderly, were deprived of key services such as education and health care.
It is noteworthy that prior to the civil war, vital government services in Maakhir region were nonexistent or ineffectual at best. The civil war only exasperated the need.
Understandably, the tasks in front of the community to fill the void left behind by the central government were immense.
Amina knew that in order for the community to face these challenges effectively, they had to pull all their strength together to help one another. On her part, she immediately started fundraising for local charitable organizations that were already on the ground operating schools in Xingalool and other cities in Sanaag.
One initial problem encountered by the organizations running the schools was a shortage of teachers. As the demand grew for more schools and qualified teachers, Amina realized that she had to go beyond fundraising. She was now fully engaged in every aspect of the schools planning and operation, to keep the children in school.
To meet the demand and keep the supply of qualified teachers, Amina and her team resorted to retaining teachers from Borama and elsewhere. The idea of recruiting teachers from faraway places has proven to be too costly to maintain. Eventually, local high school graduates were sent to Amoud University to be trained as teachers, thereby solving the problem.
By now, the schools were functioning smoothly, student enrolment was at an all-time high, funds were rolling in from the Diaspora, and qualified local teachers were at hand. Everything was running according to plan until student graduation numbers swelled, and reached a saturating point. You now had hundreds of high school graduates if not thousands in Xangalool, Badhan, Dhahar, and other major cities in Maakhir who didn't have the opportunity to continue their education beyond high school.
Thus the idea of establishing post-secondary education institutions in Maakhir was born.
In the summer of 2006, Amina went to Minneapolis, MN to seek the advice of academic experts in the field of higher education. She met with Prof. Abshir Aw Yusuf (the current Puntland Minister of Education and Higher education), Dr. Saeed Osman Fahiye, Dr. Ali Abdirahman Hersi, Prof. Saeed Saleh Ahmed, and some members of the Diaspora community to discuss the possibility of building either a technical school or a university in Maakhir.
After lengthy discussions and subsequent meetings, it was decided that a higher learning institution should be built in Badhan, Sanaag. The historic name "Maakhir" was chosen for the University. Located in Badhan, Maakhir University was officially inaugurated in 2010 with the purpose of delivering quality and affordable higher education in the region.
Since its conception in 2010, the university has produced quality graduates who gained employment in both government and private sectors in Somalia and other parts of the world. Some of the students opted for postgraduate studies and are now enrolled in top universities, studying for a masters degree.
Her humanitarian work for the community was not limited only to the advancement of education. She has been involved with other major charitable work that includes;
A mission to plant thousands of trees in Sanaag, Sool, and Bari in order to mitigate the environmental degradation and deforestation problem in Maakhir, due to the excessive clearance of forests and grasslands for charcoal.
Amina has assisted the construction of two mortuary chambers in Xingalool, a place to wash the deceased/perform (ghusl) and make the body ready for burial. Moreover, she has organized orphan sponsorship programs in Cerigabo, Badhan, and Baydhabo, Iftar programs for the poor and the needy in the blessed month of Ramadan. She has also helped with the construction of a library, a media center, and a hospital in Xingalool.
We extend our sincere congratulations to Amina Mohamoud Dualleh on winning Allsanaag Person of the Year award. We chose Amina for her exceptional leadership traits and important personal qualities of intelligence, resiliency, integrity, empathy, and her determination to make a significant difference in her community and country.
We have no doubt that her positive influence will extend beyond brackets and continue to motivate others to do the same. Amina has been awarded for her hard work and dedication, and we applaud her for her remarkable accomplishments.
She couldn't have done it without the support and the encouragement of her family and friends, especially her husband Omar Ahmed Dualleh, and her three children, Ahmed, Ayan, and Hodo who remained her source of strength.
Finally, although it is virtually impossible to list every single individual who has contributed to Amina's journey in creating positive reforms for the community, it is of our utmost respect, that we extend a thank you to those who have done so.
Special thanks to; the Federal Government of Somalia, Puntland Government, Prof. Abshir Aw Yusuf, Dr. Saeed Osman Fahiye, Dr. Ali Abdirahman Hersi, Prof. Saeed Saleh Ahmed, Eng. Faisal Ahmed Hawar, Prof. Ali Ahmed Fatah, Eng. Abdirahman Mohamed Abdale, Dr. Mohamoud Abdi Nour, Abdirahman Jama Ali, Dr. Alin Ahmed Fatah, Abdirashid Ali Warsame, Omar Haji Ali, Drs. Asha Ahmed Taraawil, Asha Mohamoud Aden, Hodan Aden Mohamed, Al-Nasar Organization, and Maakhir community in the Diaspora and in the countr
ALLSANAAG.COM