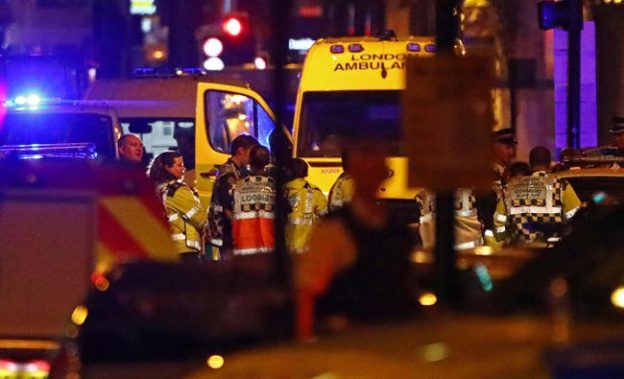 7th June 2023 admin Category :
LONDON: A vehicle struck pedestrians outside a mosque in north London early Monday morning, causing several casualties, police said.
One person has been arrested. The London Ambulance Service says the injured are being taken to hospitals. Eyewitnesses reported seeing police give emergency medical treatment to at least one of the injured.
The Muslim Council of Britain (MCB), an umbrella body, said on Twitter: "We have been informed that a van has run over worshippers as they left #FinsburyPark Mosque. Our prayers are with the victims.
Harun Khan, the head of the MCB, tweeted that the van had "intentionally" run over people leaving night prayers held during the holy month of Ramadan.
Two worshippers were feared killed, according to the Sun newspaper, but there was no immediate confirmation of this.
Prime Minister Theresa May said her thoughts were with those injured in "this terrible incident." The leader of the opposition Labour Party, Jeremy Corbyn, said he was "totally shocked."
The Finsbury Park mosque was associated with extremist ideology for several years after the 9/11 attacks in the United States but was shut down and reorganized. It has not been associated with radical views for more than a decade.
London police have declared the crash a major incident and closed the area to normal traffic.
People had been attending prayers in the area as part of the Muslim holy month of Ramadan.
Metropolitan Police said officers were called to the scene on Seven Sisters Road at 12:20 a.m. Monday. Many police cars and ambulances responded to the incident.
No other details were immediately available.
Britain's terrorist alert has been set at "severe" meaning an attack is highly likely.
Earlier this month, a van veered into pedestrians on London Bridge, setting off vehicle and knife attacks that killed eight people and wounded many others on the bridge and in the nearby Borough Market area. Three Muslim extremists who carried out the attack were killed by police.
Manchester was also hit by a severe attack when a bomber killed more than 20 people at an Ariana Grande concert.