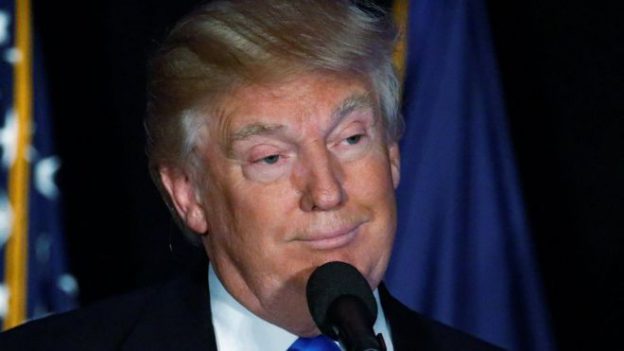 4th December 2023 admin Category :
By Ben Jacobs
(The Guradian) After months of bashing the German chancellor on the campaign trail, Donald Trump declared that Angela Merkel was his favorite world leader.
In an interview with a local reporter in New Hampshire, the Republican presidential nominee proclaimed: "I think Merkel is a really great world leader." Though, he added, "I was very disappointed that, when she, this move with the whole thing on immigration, I think it's a big problem and really, you know, to look at what she's done in the last year and a half. I was always a Merkel person. I thought really fantastic. But I think she made a very tragic mistake a year and a half ago."
Trump was criticizing the German chancellor's openness to taking refugees from Syria. Despite the ongoing civil war and humanitarian crisis in that country, Trump has long warned of the danger of taking in refugees, whom he has compared to the Trojan Horse.
The statement marks a change in tone from Trump, who has repeatedly attacked Merkel on the campaign trail.
In December, after Merkel bested him to be Time's Person of the Year, Trump tweeted she was "ruining Germany". He had previously said Merkel should be "ashamed of herself" over refugee policy.
Hillary Clinton is running to be America's Angela Merkel. We've seen how much crime and how many problems that's caused
Donald Trump in August
Trump has since gone on to compare Merkel to his election rival Hillary Clinton. In August, he said, "Hillary Clinton is running to be America's Angela Merkel, and we've seen how much crime and how many problems that's caused the German people."
He has also seen parallels in nativist opposition to Merkel in Germany in local elections and his own cause, telling a crowd in North Carolina in September, "See what happened to Angela Merkel? They had a massive defeat recently in the elections."
However, Trump has praised Merkel in the past. In August 2015 he called her "probably the greatest leader in the world today" and, in 2013, he tweeted "Angela Merkel is doing a fantastic job as the Chancellor of Germany. Youth unemployment is at a record low & she has a budget surplus."
Curiously, Trump's statement came only hours after Clinton praised Merkel as one of her favorite world leaders in a gaggle with reporters on her campaign plane.
When asked to name a favorite, the Democratic nominee said "One of my favorites has been Angela Merkel … her leadership and steadiness on the Euro crisis and her bravery in the face of the refugee crisis is something that I am impressed by."
The questions came after Libertarian candidate Gary Johnson was unable to name a single foreign leader he admired in a town hall with MSNBC's Chris Matthews on Wednesday.