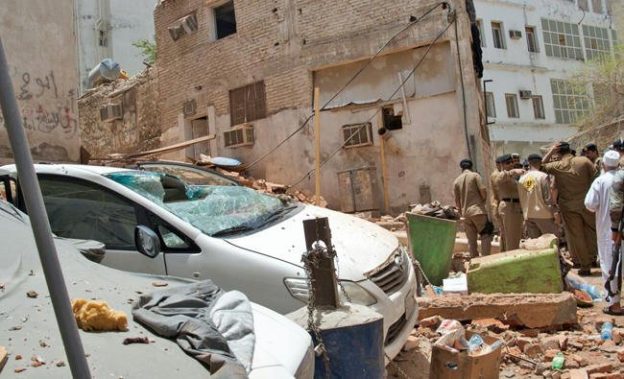 28th September 2023 admin Category :
MAKKAH: Security forces on Friday succeeded in thwarting an imminent terrorist act targeting the security of the Grand Mosque and worshippers by a group stationed in three locations, said the Interior Ministry.
The security spokesman explained that one of the sites was in the province of Jeddah, and the two others were in Makkah.
The first was in the neighborhood of Asilah, and the second in Ajyad Al-Masafi, located within the perimeter of the central area of the Grand Mosque, the spokesman said.
One site was a three-story house that contained the suicide bomber in charge of implementation. When the security men began to surround him, he fired at them, which required a response to him in order to neutralize his danger after refusing to respond to their calls to surrender.
He continued to shoot heavily before exploding himself, resulting in his death, the collapse of the building that he was in and the wounding of six expatriates who were taken to hospital, in addition to the injury of five security personnel with minor injuries.
The security spokesman said the security operation resulted in the arrest of five elements of the cell, including a woman, after raiding their positions.
The security authorities are still conducting their investigations, lifting the remaining evidence at the site of the explosion and verifying the identity of the suicide bomber.
The Interior Ministry confirmed that this terrorist network intended to violate the security of the Grand Mosque, the holiest place on Earth.
Security authorities confirmed to Arab News that the attacker blew himself up when surrounded by security men. The incident resulted in minor injuries to security men.
Sources also confirmed that before the incident, security men, on Friday morning, had arrested a wanted criminal at a house in Al-Asilah neighborhood in east Makkah. The criminal led authorities to the location of the terrorist in Ajyad Al-Masafi neighborhood, behind Al-Safwa Hotel.
In Jeddah, a terrorist was arrested by general intelligence after Special Emergency Forces had prepared to pursue him and approach him. However, he left his home, according to special security forces, and was followed by general intelligence men and arrested at a gas station in south Jeddah. His home was searched, where firearms and live ammunition was found.