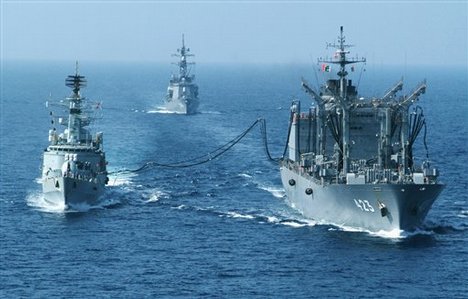 7th June 2023 admin Category :
November 13, 2016
ISLAMABAD: Pakistan Navy has assumed the Command of Multinational Combined Task Force-151 (CTF 151) from Republic of Korea (RoK) Navy at an impressive change of command ceremony held at the US Naval Central Command Headquarters in Bahrain. Commodore Muhammad Shuaib SI (M) took over the Command from Rear Admiral Nam Dong Woo of the RoK Navy.
(International the News) This is the 8th time that Pakistan Navy has taken over the command of this important task force responsible for counter piracy operations off the coast of Somalia and Horn of Africa under the overall ambit of Combined Maritime Forces, a message received here from Washington on Saturday said.
Speaking on the occasion Commodore Muhammad Shuaib said the world was passing through uncertain and unpredictable times where diverse threats confronted the international navigation at the high seas.
Piracy continued to present an intricate and extraordinary threat that impacted the freedom of navigation trade global security and stability. He stressed that no single nation could resolve this menace as piracy had been a common threat which could only be addressed through collaborative international efforts.
He assured that his team was fully prepared to shoulder this critical responsibility as part of Pakistan's contribution towards the safety and security of the oceans.
He also lauded the outgoing R Adm Nam Dong Woo of ROK Navy and reaffirmed his resolve to continue operations with same zeal and professional commitment.