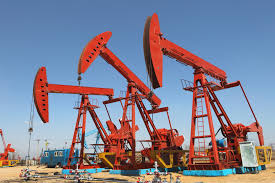 5th December 2023 admin Category :
Growing U.S. inventory levels sink oil to a three-week low
By Timothy Puko and Kevin Baxter
(Wall Street Journal) Oil prices fell to a three-week low after a second day of steep losses from rising U.S. stockpiles.
Crude is now on a four-session losing streak, its longest in a month and an abrupt setback just two weeks after it reached bull-market territory. Speculators had been excited by talk of cooperation and output caps from the world's largest exporters. But skepticism about those talks has also been widespread and many are now pointing to signs that oversupply is re-emerging as a weight on prices.
Losses began accelerating Wednesday when the U.S. Energy Information Administration said U.S. crude stockpiles rose by 2.3 million barrels in the latest week. Analysts surveyed by The Wall Street Journal had expected that crude supplies rose by just 1.2 million barrels. The increase put total stockpiles of crude and oil products at a record high at a time when many thought stockpiles would be dropping and helping crude recover from two years of falling prices.
Light, sweet crude for October delivery settled down $1.54, or 3.4%, to $43.16 a barrel on the New York Mercantile Exchange. It has lost 9.4% in its losing streak, the largest four-session decline since early February.
Brent, the global benchmark, lost $1.44, or 3.1%, to $45.45 a barrel. Both Brent and U.S. crude reached their lowest settlement since Aug. 10.
Commerzbank analyst Eugen Weinberg said Wednesday's bearish U.S. stock data were merely the starting point for what he believed was a "return to reality" for the oil markets after the price rally that had dominated August.
"Investors have finally woken up to the fact that the August rally was driven by speculation and not fundamentals, and what you are seeing is the market correcting itself accordingly," Mr. Weinberg said. His team is forecasting that prices are heading toward $40 a barrel.
Macro Risk Advisors in New York also told clients late last week it had begun selling oil and shares of oil producers, citing a lack of conviction on Saudi Arabia's willingness to work with other oil exporters to cut output. The impacts of improving technology and output from U.S. producers are still having ramifications around the globe and pushing prices lower, the firm said.
Traders are starting to refocus on those issues again because the glut in oil and refined fuels isn't going away, the firm's chief energy strategist, Chris Kettenmann, said in an interview Thursday. His long-term forecast has oil retreating back to about $39 a barrel, a low it has only approached once since April.
"It's the end of summer driving season in the U.S., which is horrible for demand," he said.
Gasoline futures settled down 6.1 cents, or 4.6%, at $1.2724 a gallon, its lowest settlement since February and its largest daily decline since July 7. Diesel futures lost 4.38 cent, or 3.1%, to $1.3819 a gallon. Diesel is on a five-session losing streak, its longest since mid-June.
Many specialist oil traders are also reluctant to trade right now, said Scott Shelton, broker at ICAP PLC. The market is bouncing between $40 and $50 a barrel, with little clear direction on when it will turn, reducing interest for some of those traders. Many are also out ahead of the Labor Day weekend, and in their absence momentum-based traders end up with more power, accelerating moves like Thursday's, Mr. Shelton said.
"Everybody is just kind of getting out of the way," a trend unlikely to change until data shows stockpiles are shrinking, he added.