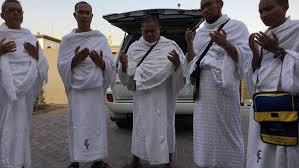 5th December 2023 admin Category :
They passed by Thailand, Laos, China, Kyrgyzstan, Uzbekistan, Turkmenistan and Iran.
A group of Malaysian Haj pilgrims have passed by Dubai before going to Makkah. They have traveled for over a month by land and crossed nine countries, from Malaysia to the UAE, before reaching KSA on Monday. Their journey is brought about by their desire to promote unity and greater humility among Muslims.
"Haj is a mandatory Islamic pilgrimage to Makkah for all Muslims who are physically and financially capable of doing the journey," said Khir bin Ariffin, head of the group who has embarked on a journey they called "Kembara Inspirasi Haji" or Haj Inspiration Expedition. "Nowadays it is convenient to travel by plane but we want to feel the true journey of completing the fifth pillar of Islam. The philosophy of Haj is about sacrifice; so instead of going by plane, we decided to go by land," he explained.
The group, composed of seven men and two women, left Kuala Lumpur, Malaysia on July 17 riding two 4X4 special utility vehicles. They passed by Thailand, Laos, China, Kyrgyzstan, Uzbekistan, Turkmenistan and Iran.
From Iran, they took a ferry and arrived at Sharjah sea port on August 22 then traveled to Dubai (they got a special permit to drive a right-hand vehicle in the UAE). They waited for five days in Dubai for their Haj visa and, to avoid the rush, traveled to Saudi Arabia by plane on Sunday. They arrived in Jeddah early Monday morning and traveled by bus to Makkah.
Khir said their journey across various Asian countries was dangerous at times. They traveled through unfamiliar highways guided only by google map and they also encountered documentation problems at some borders. Security was also stringent in some areas and at one point they were refused entry unless they leave or send their drone camera back home.
"In total, we covered around 15,000 kilometres by land travel. We have passed various terrains and climate conditions. Daily we drove for eight to 10 hours, covering between 500-700 kilometres and we changed drivers every 200 kilometres. All of us drove, including the women," Khir told Khaleej Times.
"It (journey) was a sacrifice and a fulfilling one. Because we wanted to inspire everybody, promote unity and send our message that despite our differences in nationality and religion, we are human beings and we are one," Khir underlined.
"We also did charity work during our journey. In Thailand, we gave food packs to the Rohingya refugees," he added.
Khir said Haj is about looking deeply into one's spirituality and relationship with God. He said: "There are various ways to travel to Makkah. There was even a couple who went there by bike (Khaleej Times reported this in June. Malaysian Ahmed bin Muhammad Isa and his wife, Noradillah bint Muhammad Sapie, quit their jobs in Malaysia to travel to Makkah on bicycles. They begun their journey in April 2016 and reached Makkah in June this year. KT also reported of a Indonesian who traveled to Makkah by foot). But what is more important is that we experience the true meaning of Haj."
Malaysian consul-general Yubazlan Yusof said the group's journey was inspiring. "It was a difficult journey but they persevered and they did not give up," he said.
Meanwhile, for Malaysian couple Jasmi and Zuraini, the Haj journey also strengthened their 10-year husband-and-wife relationship. "Together, we faced a lot of obstacles and together we overcame them," the couple told Khaleej Times.