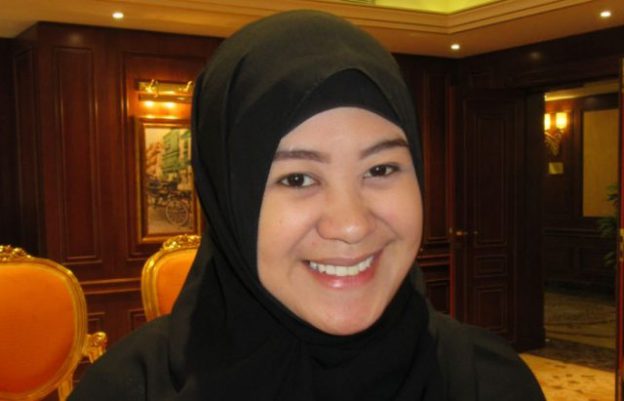 1st October 2023 admin Category :
By Layan Damanhouri
JEDDAH — Filipina TV presenter Habibah Sarip is performing her first pilgrimage. She is part of a group of some 150 international journalists invited by the Ministry of Culture and Information.
"This is the first time I'm performing Haj," she says. "It was so emotional seeing the Kaba for the first time, I didn't think this moment would come. The feeling is so new and refreshing."
Princess Habibah, as she's called on screen, is the first Muslim female to appear on Philippine's national television in an effort by the government to break tensions between religious groups.
Muslims are a minority with some 5 million mostly living in Mindanao, Habibah's hometown, in southern Philippines.
Speaking to Saudi Gazette, she shared her media experience in a non-Muslim country. "In Philippines, there is a conflict between Muslims and non-Muslims. The government wanted to have a hijabiMUSLIMA
 on national TV to break the barriers," she said.
Her audition at People's TV in 2012 landed her a job as a news anchor with a hijab. She has a graduate degree in English and communications. Many viewers were surprised to see an educated and presentable Muslim woman on television. Despite her previous appearance in local channels, People's TV gave her a chance for much a wider viewership among all segments of society.
Many Filipinos are not familiar with Islam. In addition, the general perception is that the Muslim community is backward and having a barbaric lifestyle isolated from modern life. "We used to be embarrassed and discriminated," she said. "Now they can see that Muslims in the Philippines are actually educated, not living in mountains or other stereotypes. But when they saw me, they saw we are the same but just have different religion."
In addition to news coverage, Habibah also anchors programs on Islamic traditions and on Ramadan and Eid Al-Fitr.
"The thing I love hearing from them is: Please educate us about Muslim Filipinos," she said. "They're happy we can share and educate them."
She added: "Little by little they are respecting a lot of Muslims. Those things we say also feels like dawa because we're teaching them."
While other hosts have their hairstyles done and wear dresses and sleeveless tops, she is the only one in the studio wearing a headscarf. She describes her first time on television as nerve-racking. "The first time I was on TV I was really nervous. I was trembling!" she said with a hearty laugh.
"There was a feeling that I'm alone. But I fought the feeling. Afterwards, people in our country, especially the Muslim community, were so impressed and so happy with the government. They felt proud that Muslims were being represented," she said.
"We the minority are always fighting for our rights," she said. The Muslims are currently pushing for a basic law allowing them to practice Shariah (Islamic) law.
The media is having an impact, according to Habibah. Eid has been recognized as an official holiday. Social media networks have fruitful and meaningful discussions between Muslims and non-Muslims.
Saudi Arabia is playing a role in helping Mindanao attain minority rights in international Islamic conferences. "Custodian of the Two Holy Mosques King Salman and earlier rulers have been very proactive toward this cause. They are giving everything we need. It shows Muslim countries are still there for us."
Newly-elected President Rodrigo Duterte has publicly announced that there are plans to launch an Islamic channel.
"Maybe someday we will start covering feature stories or have a show with other Muslims," Habibah said.