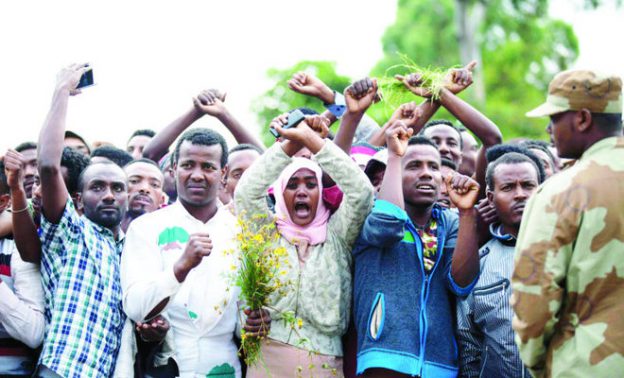 1st October 2023 admin Category :
ADDIS ABABA: Ethiopia declared a six-month state of emergency on Sunday following months of violent anti-government protests, according to an official statement released on state media.
"The state of emergency was declared following a thorough discussion by the Council of Ministers on the loss of lives and property damages occurring in the country," Prime Minister Hailemariam Desalegn said.
The declaration marks a further hardening of the government's position after months of protests in different parts of Ethiopia.
These have been met with a strong security response that has left hundreds dead, according to human rights groups.
"We put our citizens' safety first. Besides, we want to put an end to the damage that is being carried out against infrastructure projects, health centers, administration and justice buildings," Hailemariam said on state media, adding the state of emergency was effective from October 8.
Ethiopia is facing its biggest anti-government unrest in a decade, from the majority Oromo and Amhara ethnic groups which feel marginalized by a minority-led government.
Internet access has been restricted in recent days to prevent protesters from organizing gatherings.
In the wake of the state of emergency declaration, residents of the capital Addis Ababa and regional towns reported more police on the streets but little other change.
The protests threaten Ethiopia's reputation as an economic success story renowned for its stability, even as the government's authoritarian rule attracts criticism.
Last week protests also targeted foreign investors — regarded as supporting and being backed by the central government — with close to a dozen foreign-owned companies, including textile and plastic factories, set on fire.
Tensions have been rising since an Oromo religious festival last week ended in tragedy when police fired tear gas on anti-government protesters, sparking panic in the massive crowd and triggering a stampede that left more than 50 dead.
The declaration of a six-month state of emergency is unprecedented in the 25 years the current Ethiopian government has been in charge.
An opposition leader said the declaration was a ploy to allow the government to "consolidate their authority and squash any public, spontaneous protests."
"They are not giving any space for dialogue. They want total control on everything," said Beyene Petros, chairman of the Medrek opposition coalition.
"People will not sit and accept this. It will provoke more anger," he predicted, warning it "might well be the last straw."
The unrest began in November in the central Oromia region then spread to Amhara in the north.
Together, the Oromo and Amhara people make up 60 percent of the population. The protesters accuse the country's leaders, who largely hail from the northern Tigray region, of monopolizing power.
International rights groups estimate at least 500 demonstrators have been killed in a bloody crackdown on protests over the past 10 months.