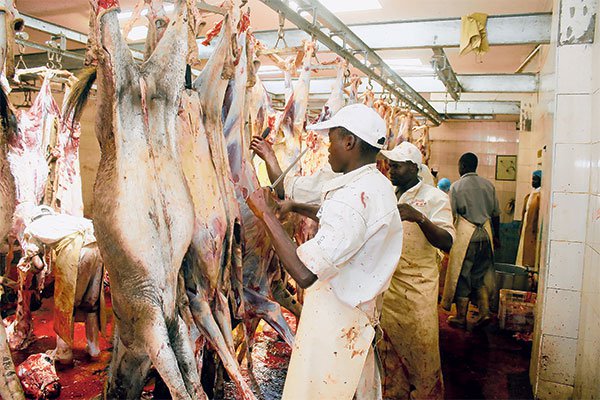 30th September 2023 admin Category :
Activities at the Goldox Kenya Ltd, a donkey slaughterhouse in Mogotio, Baringo on February 28, 2017. Donkey slaughterhouses have been blamed in drastic plunge of donkey numbers. PHOTO | SULEIMAN MBATIA | NATION MEDIA GROUP
Monday September 11 2017
By MACHARIA MWANGI and GEORGE SAYAGIE
(Daily nation) Dealers in donkey meat are facing rough times ahead with the animal's population said to be on a rapid decline.
Questions have been raised on the sustainability of the business, given the fall in the supply of the animal, with no sign of breeding plans to raise stocks.
The demand for the donkey has been rising in recent times, leading to an increase in illegal businesses and animal theft.
According to a 2009 donkey census, there were 1.8 million animals in the country, with 45,000 of them in Nakuru County and 19,000 within Naivasha Sub-County.
600 DONKEYS
Statistics from police and veterinary departments in Nakuru, Narok and Nyandarua counties shows that more than 600 donkeys have been stolen in the region this year alone.
The number could be much higher as the figure gives reported cases only.
Farming Systems Kenya blames the illegal trade and theft on the high demand for donkey products in the Far East.
A donkey skin fetches up to Sh30,000 on the black market. Most of the donkeys found slaughtered had their ears, skins and tails missing.
ILLEGAL SLAUGHTER
Nyandarua police recently raised alarm over increased cases of donkey theft and illegal slaughter.
According to the police, criminals have shifted their interest from cattle to donkeys, which they kill and skin. They also take their livers.
"Ol Kalou has thousands of donkeys and we believe the thieves are camping here and neighbouring areas," Ol Kalou police boss Wilson Kosgei said, adding that the skins were usually exported to China.
Late last week, the proprietor of Star Brilliant donkey slaughterhouse, Naivasha was summoned by the county security committee for questioning over claims of illegal activities, including purchase of stolen animals.
According to Deputy County Commissioner Isaac Masinde, five donkeys were traced to the abattoir.
STOLEN ANIMALS
The animals were reportedly stolen from farmers in Suswa, on the outskirts of Maai Mahiu Town last week. Anti-stock theft unit officers traced them to the slaughterhouse.
"Fifteen animals were stolen on that night but some of them had been slaughtered. Only five were found in the abattoir," Mr Masinde said.
The administrator added that some suspects were arrested and arraigned for theft though the donkey owners opted for an out-of-court settlement.
"These are some of the issues we want explained as they leave a lot to be desired," the deputy county commissioner added.
In an interview in his office Sunday, the proprietor of the slaughterhouse John Kariuki absolved himself from blame, saying he bought the animals from a supplier who had the necessary documents.
HIGH DEMAND
"To cushion the business from such misfortunes, the management will be demanding a signed and certified agreement letter from the supplier as well as an authorisation letter from the chief," he said.
He cited Narok and Suswa as some of the places posing challenges to his business.
During the World Donkey Day, Nakuru Veterinary Services Director Enos Amuyunzu said more than 870 donkeys had been reported missing by May 17.
Dr Amuyunzu said it was common knowledge that there was a very high demand for donkey skin in China.
Donkey theft rose in 2012, with an average 54 animals being slaughtered every month. It caused uproar among owners and residents.
MASTERMIND
Then, the public health department recorded 32 cases of stolen animals in Naivasha and the surrounding areas.
Mr Masinde said security agents had identified the mastermind of donkey theft in Naivasha.
"We have intensified investigations and hope to arrest the suspect soon. Those involved in the illegal business should know that their days are numbered," he said.
He advised licensed donkey operators to seal loopholes being used by criminals or risk having their businesses shut.
"The operators should devise a method of ensuring they only purchase animals from licensed owners or sellers," Mr Masinde added.
DONKEY RANCH
Mr Kariuki said he would soon establish a donkey ranch in Naivasha.
"A team has already been sent to the field to look for the right animals to buy. This will ensure sustainability," he said.
He also downplayed fears that the animals were facing extinction in Kenya.
"Since we started operating in 2014, we slaughter between 80 and 100 animals daily. We have never run short of supply," he said.
The abattoir has a workforce of 150 with the number expected to increase after the investor shipped in an ultra modern freezer valued at Sh20 million.
SKIN BUSINESS
"The equipment will boost our export capability," Mr Kariuki told the Nation.
Mr Kariuki said the number of animals slaughtered was expected to increase to 200 daily when the equipment arrived.
He acknowledged that the lucrative skin business was fuelling donkey theft in different parts of Kenya.
Early this year, Farming Systems Kenya chief executive Joseph Aliaulo raised fears of the animal disappearing from Kenya in a decade if the current rate of slaughter was maintained.
He said the animals have a long gestation period of between 11 to 14 months.
PROTESTS
Narok farmers suspect the stolen animals are either illegally slaughtered or transported to licensed abattoirs in Naivasha and Baringo.
Recently, Narok North Sub-County residents organised several marches to protest the increasing donkey theft after losing 120 animals, with some carcasses being found in Naivasha.
"The thieves target donkeys gathered in enclosures. In some cases, we find only skeletons," Mr Aliaulo said.
"We know of situations where animals are poisoned at night. When the carcasses are buried, the dealers return to skin them."
Mr Moses Kamau, a trader, suffered losses when his animals were stolen weeks ago.
NUMBERS
He bought 16 animals and locked them in an enclosure. He said he found only eight the following morning.
"The fence had been cut. We followed the trail but found that the animals had been slaughtered," he said.
The businessman added that he had an order to deliver the animals to slaughterhouses in Naivasha and Baringo. Every animal cost Sh12,000, he said.
Mr Aliaulo said donkey numbers had dropped drastically since the opening of Goldox slaughterhouse in Mogotio and Star Brilliant in Naivasha.
He said donkey skin has a special protein that is rumoured to be an aphrodisiac.
LOW POPULATION
"Goldox slaughters about 150 donkeys a day, Naivasha 100. Fifty others are killed. This is a threat to donkeys and the government must do something about it," he said.
The veterinary department in Nakuru also says the population of donkeys in Kenya is very low compared to other livestock.
Donkey owners use the animals to transport goods, earning between Sh500 and Sh1,200 a day.
A majority of the owners live in rented houses and lack the ability to build some kind of shelter for their animals for they have no land.