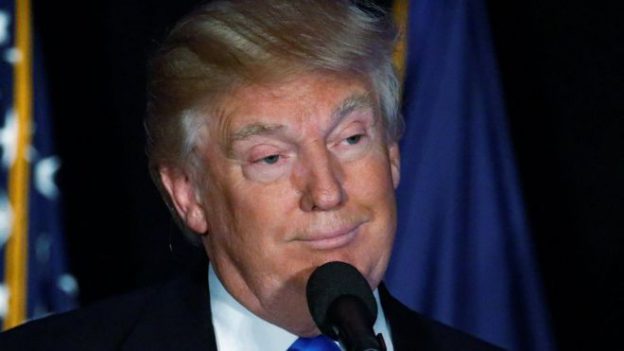 5th June 2023 admin Category :
Polls show Clinton's lead in battleground states narrowed after FBI announcement last week
Thomson Reuters Posted: Nov 05, 2016
(CBC) Republican Donald Trump and Democrat Hillary Clinton traded barbs as they entered the last three days of campaigning in the U.S. presidential election, with competing events on Saturday in Florida, a swing state that could prove decisive in Tuesday's vote.
Clinton and Trump are making their closing arguments to American voters, crisscrossing the U.S. in hopes of convincing last-minute undecided voters and rallying their bases to turn out enthusiastically on election day.
Opinion polls show Clinton still holds advantages in states that could be critical in deciding the election, but her lead has narrowed after a revelation a week ago that the FBI was looking into a new trove of emails as part of its probe into her handling of classified information while she was secretary of state.
A McClatchy-Marist opinion poll released on Saturday of voters nationwide showed Clinton leading by one percentage point compared to 6 percentage points in September.
A Reuters/Ipsos tracking poll also released Saturday showed Clinton ahead by four percentage points nationally compared to five points on Friday.
All-important state of Florida a virtual tie
The state opinion polls have found Florida is one of the most competitive among the battleground states; those that are hotly contested because their voters can swing either to Republicans or Democrats.
The 2000 presidential election was decided in Florida after a dispute over votes and recounting of ballots went to the U.S. Supreme Court, which ruled in favour of Republican George W. Bush over Democrat Al Gore.
The Real Clear Politics average of Florida opinion polls found Clinton with a lead of about one percentage point, indicating the race there is a virtual tie.
Trump spoke at a rally on Saturday morning in Tampa, Fla., where he continued to criticize Clinton for supporting the Affordable Care Act, also known as Obamacare, in the wake of announcement that premiums are going to rise next year.
"It's not going to matter because if we win I'm throwing it out anyway," Trump said.
Shortly before Clinton took the stage in Pembroke Pines, Fla., it began raining.
People in the crowd waiting for Clinton at the outdoor rally remained in place as a downpour began, taking out umbrellas and fashioning garbage bags into head coverings.
"I'm thrilled to be here and boy is this a hardy group, rain or shine you are ready," Clinton said, her voice cracking with hoarseness.
She cut her speech short as she became soaked in rain, saying, "I don't think I need to tell you all of the wrong things about Donald Trump."
An estimated 225.8 million votes up for grabs
In North Carolina, Trump campaigned along with his wife Melania, who has been nearly invisible in the campaign after her speech at the Republican National Convention in July that had passages lifted from a previous speech by Michelle Obama. Melania Trump did deliver a speech this week in Pennsylvania.
"It is a movement for all of those who are left behind by a broken and rigged system," Melania Trump said on Saturday of her husband's campaign. "This is a movement which is inspiring and inclusive."
Early voting began in September and the data firm Catalist estimates more than 30 million ballots have been cast in 38 states.
There are an estimated 225.8 million eligible U.S. voters. Saturday is the final day for early voting in many Florida counties.
Trump also campaigned Saturday in Nevada and Colorado.
Trump was rushed off stage by his security team during a rally in Nevada because of a possible threat in the crowd. Details about the possible threat weren't immediately released, but one man was escorted out of the rally by police.
Trump returned to the stage after a few minutes to complete his speech.
He told the crowd: "Nobody said it was going to be easy for us. But we will never be stopped. Never ever be stopped."
Clinton started the day by stopping by the West Miami Community Centre, a Cuban American neighbourhood, with telenova star Jencarlos Canela, a Miami native of Cuban descent.
She then visited her campaign's office in Little Haiti where there is a large concentration of Haitian-American residents. Clinton was joined by Sybrina Fulton, the mother of Trayvon Martin, the unarmed black teenager who was shot dead in 2012 by a Sanford, Fla., neighbourhood watchman, George Zimmerman.
While Trump prefers large-scale rallies, Clinton has filled her campaign schedule with targeted appearances meant to court voters in specific demographics.
Cuban voters have historically favoured Republicans, but younger generations have shifted toward Democratic Party candidates.