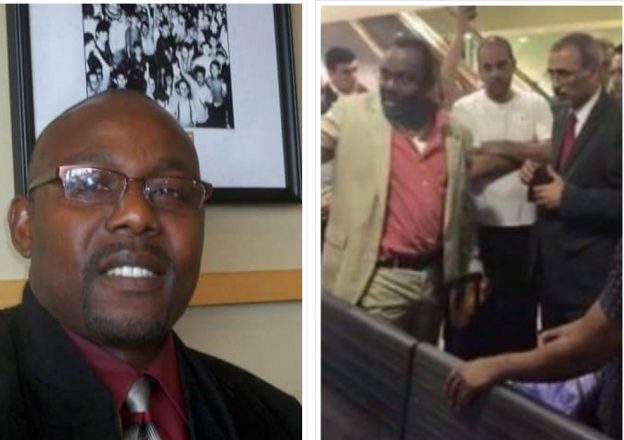 6th June 2023 admin Category :
Reer galbeedkii Huteelada raaxada ayaa loo qaaday, Afrikaankii Shamiitada garoonka diyaaradaha ee la maro  ayaa la yidhi seexda. Afrikaanka looga tegay shamiitada inay seexdaan waxa ka mid ahaa Eugene Fahngon, oo ka mid ah golaha wasiirada dalka Liberia. Waana ninka la doodaya madaxda diyaaradda Air Moroco.
Duulimaadkii diyaaradda oo ahaa  9 AM subaxnimo  waa la baajiyey waxaa laga dhigay 9 PM maalinta kale. Rikaabkii Maraykanka ahaa waxa loo qaaday Huteelada raaxada si ay halkaa ugu soo nastaan, halka Liberiankii  iyo Afrikaankii kale looga tegay ( to sleep on the floor at the terminal) inay seexdaan shamiitada garoonka ay dadku dul  maraan.
Ninka hadlayaa waa wasiirkii Liberianka ahaa,   waxaad maqlaysaa isaga oo leh "We can not charge the Liberian [passengers] ticket $ 1,600 and let them sleep on the ground while the American passengers, who also paid $ 1,600, have a hotel room," he says in the video.
Liberia's Minister Eugene Fahngon engaging Air Maroc officials for discriminating.

A 9am scheduled flight was cancelled and rescheduled for 9pm the next day. U.S passengers were given hotel rooms whilst Liberians and other Africans were left to sleep on the floor at the terminal pic.twitter.com/JCcf9syjjQ

— Facts About Africa (@OnlyAfricaFacts) August 19, 2018