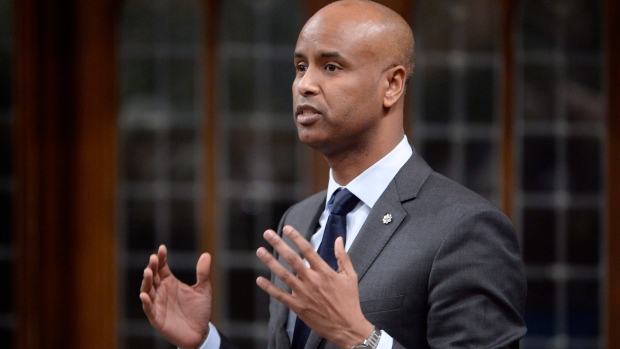 3rd June 2023 admin Category :
Canada to give $119M in aid to Middle East and African countries suffering food crises
Canada will provide $119 million to help people in countries in the midst of food crises.
Immigration Minister Ahmed Hussen told reporters in Toronto on Friday that the money will go toward those in Nigeria, South Sudan, Somalia and Yemen who are facing extreme food insecurity.
"These 20 million people need humanitarian assistance now," he said at the Keele Street Community Hub. "We know that Canadians care and want their government to respond to the needs of people in these regions."
He said Canada will provide $27 million to Nigeria, $21 million to Somalia, $37 million to South Sudan and $34 million to Yemen.
Famine has already been declared in parts of South Sudan and food crises are developing there, in northeastern Nigeria, and Yemen due to conflicts and in Somalia due to drought.
Canada responding to UN appeal
Canada's contribution will be delivered through United Nations agencies and non-governmental humanitarian organizations. It will go toward the provision of food, health-care services, clean water and sanitation facilities and to protect livelihoods.
Hussen said the Canadian government urges the power "players" in these countries to allow aid to be delivered.
Earlier this month, the UN appealed for urgent aid, saying that this is the "largest humanitarian crisis" since the end of the Second World War. It will take $4.4 billion in humanitarian aid by July to avert disaster, the UN said then.
Hussen said these four countries have been identified as the most in need right now.
The majority of the food insecurity has been created by conflict and displacement from conflict zones, the minister said.
According to Global Affairs Canada, about 8.5 million people in Nigeria are in need of humanitarian assistance, with 5.1 million of them facing extreme food insecurity. Roughly half the population of Somalia — more than six million people — require humanitarian assistance.
In February, the UN declared a famine in parts of South Sudan, affecting an estimated 100,000 people. Up to one million are at risk of starvation.
An estimated 10.3 million Yemenis require immediate life-saving assistance, according to aid organizations
In 2016, Canada provided over $100 million in humanitarian assistance to people in all four countries.