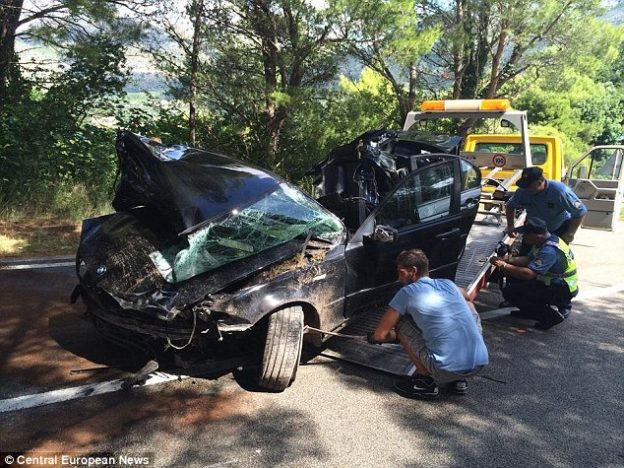 1st October 2023 admin Category :
CTV Vancouver Island
Published Friday, July 3, 2015 3:36PM PDT
Investigators hope taxi surveillance footage will help them determine what caused a cab driver to crash head-on into a pole early Friday, killing him and sending three passengers to hospital.
People identifying themselves as family members have confirmed to CTV News the deceased driver is Mohamed Abdi, a 44-year-old man from Somalia with a wife and two children under the age of 10.
The crash is considered unusual because there were no skidmarks and no indication that a mechanical failure caused it, according to Victoria Police Sgt. Glenn Vermette.
"That is the big mystery we're working on right now," he said. "The vehicle simply went off the road and into a pole, which doesn't usually happen."
Two of the passengers remain in life-threatening condition at Victoria General Hospital after the crash, which happened at 2:26 a.m. on Gorge Road East at Garbally Road.
Police say the passengers, all men in their early-to-mid 20s, were picked up at the corner of Johnson and Douglas in downtown Victoria.
Vermette said there are initial indications that two of the three weren't wearing seatbelts.
The passenger who was likely wearing a seatbelt is in non-life threatening condition. It is unclear whether Abdi was wearing a seatbelt.
"It tells us the same thing we've known for decades, that seatbelts do save lives," Vermette said. "As long as you're 16 years of age or over, it's your responsibility to make sure you're buckled up."
Some of Abdi's coworkers were to upset to talk about his death Friday, and others expressed remorse at his passing.
"From what I hear from the other drivers, they're really shook up and they're very concerned," said Surinder Kang, operations manager for Yellow Cab of Victoria. "Everybody is phoning in with their condolences and also their concerns."
He called the driver a "very nice gentleman" who had worked for the company for a decade.
"I feel really, terribly sad. I will be missing him, and him coming into the office," Kang said.
The car has been removed from the scene and investigators will be performing a full mechanical inspection of the wreckage, and will also pore over any photos or video captured by a surveillance camera to determine what went wrong.
Police will also rely on information from the passengers once they have been stabilized in hospital, he said.
Vermette said it's too early to tell whether it's a criminal investigation, but police have already determined that the car was going faster than the 40 kilometres an hour speed limit.