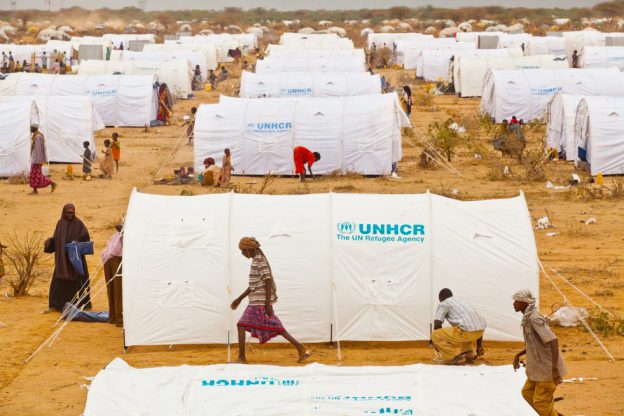 5th December 2023 admin Category :
Mohamed Olad Hassan
August 29, 2016 3:30 PM
(VOA) Authorities in southern Somalia say they have blocked Somali refugees returning from Kenya because the refugees do not get the humanitarian support they need once they reach major cities.
A Tripartite Agreement signed by the U.N. refugee agency and the governments of Kenya and Somalia in November 2013, establishes a legal framework and other support for Somali refugees in Kenya who are willing to return home.
But authorities in Jubbaland, a Somali Federal member state, say the agreement does not help the vulnerable refugees once they return.
In an interview with VOA's Somali service, Jubbaland's interior and security minister, Gen. Mohamed Warsmae Darwish, said security forces are preventing the returnees from moving out of the transition center in Dobley town.
"We have decided to suspend the returnees' movement because thousands, who are already in the cities like Kismayo port town, the region's main city, are facing severe humanitarian challenges," he said.
Darwish added that the Tripartite Agreement "did not fulfill the expectations of the refugees."
"They are transported from Dadaab with trucks and once they reach Somalia they are given $200," he said. "That is it. They do not have the basic human necessities such as water, food and shelter."
He said many of the returnees are already demoralized and regret leaving Dadaab.
"People with children who had schools, health services and future are now flooding into cities already struggling with Internal Displaced People [IDP], they are very sad and uncertain about their future,"he said.
He said following the Tripartite Agreement, authorities were asked to prepare shelters for the returnees. But he added that with no support from the signatories, the regional administration is unable to handle the large number of refugees.
"Now, we have more than 16,000 returnees," he said. "Most of them flooded into the cities to survive. But it is huge burden to us so that we should keep the new returnees close to the border until the issue is solved."
Other developments
Elsewhere in the region, six people were killed and 10 injured in two days of blasts and clashes in Beled-hawo.
The violence erupted on Sunday when pro-government forces clashed with local militia who were opposing plans to reform the town's local administration.
"We have conducted an operation against armed militias who have been mobilizing themselves in the town," said Ali Hassan Deyrow, the town's chief security. "We killed four of them and arrested nine of them with wounds on Monday."
On Sunday, two separate blasts of improvised explosive device killed two civilians and injured five others.