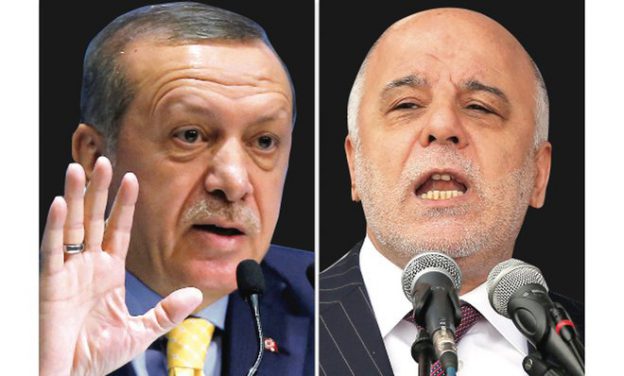 6th December 2023 admin Category :
JEDDAH: Turkish President Recep Tayyip Erdogan has rejected Iraqi Prime Minister Haider Al-Abadi's criticism of the presence of Turkish troops in Iraq ahead of a planned operation to retake Mosul from Daesh.
"Who's that? The Iraqi prime minister? First you know your place," retorted Erdogan.
"You are not my interlocutor; you are not my equal," Erdogan told a meeting in Istanbul at which he addressed Al-Abadi. "You should know your limits."
"It is not important at all how you shout from Iraq. You should know that we will do what we have to do," said Erdogan.
Turkey shares a 1,200 km border with Syria and Iraq, and faces threats from Daesh in both. Turkey is concerned however, that once Daesh is evicted from Mosul, the overwhelmingly Sunni city will be taken over by Iran-affiliated Shiite militias.
Ankara maintains an estimated 2,000 troops in Iraq — around 500 of them in the Bashiqa camp in northern Iraq. They are training local fighters who will join the battle to recapture Mosul, according to Turkish media reports.
The Iraqi premier's spokesman, Saad Al-Hadithi, said Erdogan was "pouring oil on the fire" with his remarks. "Turkey's response has turned a law and security issue into a problem of a personal nature," he told AFP.
The differences between Ankara and Baghdad flared up after the Turkish Parliament extended a government mandate by one year thereby allowing its troops to remain on both Iraqi and Syrian soil.
The Shiite-dominated Iraqi Parliament labeled the Turkish troops an "occupying force."
Erdogan rejected the demand for Turkish troop withdrawal.
"Iraq had certain requests from us regarding Bashiqa, and now they are telling us to leave. But the Turkish Army has not lost so much standing as to take orders from you," said Erdogan.
Turkey's position is that involving Shiite militias in a drive to expel Daesh from Mosul will not bring peace.
"If you try to change the demographic structure in Mosul, you will ignite the fires of a major sectarian war," said Turkish Prime Minister Binali Yildirim.
Turkish Foreign Minister Mevlut Cavusoglu is traveling to Saudi Arabia on Thursday for a meeting with the foreign ministers of the Gulf Cooperation Council (GCC) states in Riyadh.
Confirming the news to Arab News on Tuesday, Saudi Foreign Ministry spokesman Osama Nugali said: "Foreign Minister Adel Al-Jubeir and Cavusoglu will hold a joint press conference on Thursday where they will address this issue (of Mosul)."
Saudi journalist Jamal Khashoggi told Arab News on Tuesday that the GCC meeting with Turkey has assumed significance in the light of the new developments.
"Saudi Arabia and Turkey should be worried about Iran and the sectarian government in Baghdad," he said. "They (Tehran and Baghdad) have supported demographic changes elsewhere in Iraq. They are changing history; their intentions are bad; and we know this from what they have already done in Sunni areas."
According to Khashoggi, if Iran and the notorious Shiite militia, Al-Hashd Al-Shaabi, launch an attack of their own on Mosul, "then that will lead to a mass Sunni exodus from Mosul." He said a Shiite presence in Mosul would make Sunnis anxious and fearful.
Khashoggi is worried about something else. "Iran may populate Mosul with people who are not indigenous to the area," he claimed. "The Iranians have done this before; they change demographics, and should not be allowed to do so."
He is strongly opposed to allowing what he sees as Iranian-American designs to succeed in Mosul.
"Erdogan will not allow the Americans and Iranians to go into Mosul with Al-Hashd Al-Shaabi," he said. "Turkey will insist on — and get — a role for the Peshmergas because the Peshmergas are Erdogan's strong allies."
Khashoggi said Turkey would need support from the GCC states and "Turkey would get it, because Turkish concerns are Saudi and Gulf concerns as well."
He did not agree with the American approach of aligning with Al-Hashd Al-Shaabi and the Kurds in order to liberate Mosul. "That is totally wrong. This should not be allowed (because) Al-Hashad Al-Shaabi are not people indigenous to Mosul," he said.
Meanwhile, a US State Department official told Arab News that Iraq's neighbors needed to respect Iraqi sovereignty and territorial integrity.
"That is the premise that the global Counter ISIL Coalition operates under in Iraq, and we expect all of our partners to do the same," he said. "We call on both governments to focus on their common enemy — Daesh."
According to the spokesman, it is imperative for all parties in the coming days and weeks to coordinate their steps in order to ensure a unity of effort in the fight against Daesh.
"We continue to believe that this is a diplomatic matter for the governments of Iraq and Turkey to resolve and we support continued dialogue that will lead to a resolution of this matter," he said.
"It is important that all parties who support the Iraqi government's efforts to defeat Daesh do so in a manner that does not inflame sectarian tensions," he said, and added: "This is something that we have discussed as a coalition and also with the government of Iraq."