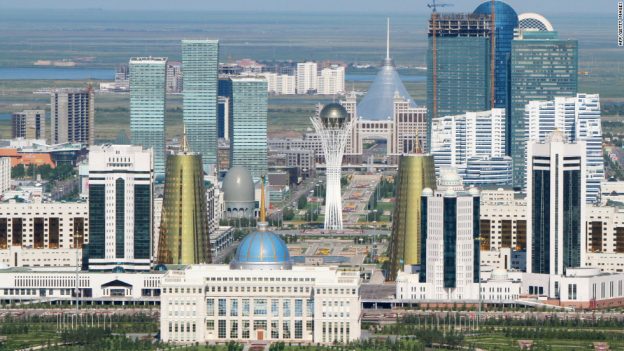 5th December 2023 admin Category :
Sunday,September 10 2017, Your time is 3:10:06 PM
President Recep Tayyip Erdoğan on Sept. 10 urged Muslim countries to "use every means available" to stop the "cruelty" perpetrated against Rohingya Muslims in Myanmar.
The United Nations appealed for urgent aid to deal with a humanitarian crisis unfolding in southern Bangladesh after the number of Rohingya fleeing Myanmar neared 300,000, just two weeks after violence erupted there.
"We want to work with the governments of Myanmar and Bangladesh to prevent the humanitarian plight in the region," Erdoğan said at the opening session of an Organization of Islamic Cooperation (OIC) summit in the Kazakh capital Astana.
Erdoğan said Turkey had offered aid, adding that it expected that Bangladeshi authorities admit and help Rohingya Muslims fleeing the violence.
"International organizations and we, as Muslim countries in particular, should fight together by using every means available to stop that cruelty," he said.
Turkey last week sent 1,000 tons of aid for the refugees in Bangladesh after  the Turkish Cooperation and Coordination Agency (TİKA) was allowed to distribute food and clothing in Rakhine state following a phone call between Erdoğan and Aung San Suu Kyii Myanmar's leader.
The agency is planning to eventually distribute 10,000 tons of food, medicine and clothes in the region.
Erdoğan had previously promised to raise the Rohingya issue at the annual meeting of U.N. General Assembly later this month.
The president also raised the issue in his bilatarl meetings in Astana with Iranian President Hassan Rouhani, Venezuelan President Nicolas Maduro, Pakistani Presdient Manoon Hussain, Afghan Presdient Ashraf Gani, Uzbek President Shavkat Mirziyoyev, Bangladeshi President Abdul Hamid, Bakir İzetbegovic, Bosnian member of the tripartite Presidency of Bosnia and Herzegovina, and Gine-Bissau Prime Minister  Umaro Sissoco Embalo.
The U.N. said the wave of hungry and traumatized refugees crossing into Bangladesh is "showing no signs of stopping," overwhelming agencies in the Cox's Bazar region already helping hundreds of thousands displaced by previous spasms of conflict in Myanmar's Rakhine state.
"It is vital that aid agencies working in Cox's Bazar have the resources they need to provide emergency assistance to incredibly vulnerable people who have been forced to flee their homes and have arrived in Bangladesh with nothing," the U.N. Resident Coordinator in Bangladesh Robert Watkins said.
He said in a statement late on Sept. 9 that agencies urgently needed $77 million to cope with an emergency that was triggered when Rohingya insurgents attacked police posts and an army base on Aug. 25, prompting a military counter-offensive.
The Arakan Rohingya Salvation Army (ARSA) insurgent group declared a month-long unilateral ceasefire, starting on Sunday, to enable aid groups bring humanitarian aid to those still in the northwestern state of Buddhist-majority Myanmar.
The impact of ARSA's move is unclear, but it does not appear to have been able to put up significant resistance against the military force unleashed in Rakhine state, where thousands of homes have been burned down and dozens of villages destroyed.
Thousands of displaced people in Rakhine have been stranded or left without food for weeks. Many are still trying to cross mountains, dense bush and rice fields to reach Bangladesh.
Red Cross organizations are scaling up their operations in Rakhine after the U.N. had to suspend activities there following government suggestions that its agency had supported the insurgents. The U.N. has evacuated non-critical staff from the area over the past two weeks.