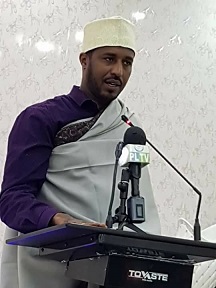 24th September 2023 admin Category :
A Promise Kept: The Federal Minister of Planning, Investment, and Economic Development Pays a Historic Visit to Sanaag Region.
By Ahmed S Warsame
The Honourable Jamal Mohamed Hassan, Minister of Planning, Investment and Economic Development fulfilled a promise that he had made to his constituency long before he became a prominent cabinet member of the government. His long-awaited visit to his homeland of Sanaag came true in dramatic fashion in the early hours of the New Year. From Ceeldaahir to Midigale and finally Badhan, multitudes of jubilant crowds waited hours and lined up along the newly constructed Ceeldaahir-Ceerigaabo road to welcome him.
The visit is first of its kind by a federal Minister since the collapse of Somalia's central government in 1991. His visit coincides with a period of great political and economic reform in the region. During a time when the help of the federal government is most needed, his visit will certainly herald a new era of political and economic cooperation between the federal government and Sanaag region.
What is more significant about this visit is that it dispels the myth of a "disputed land". This label was dubiously given to the region by the international community and to some extent willfully perpetuated by previous governments out of a political convenience, in order to avoid directly dealing with the region for the appeasement of others.
Times have changed since, a new responsible federal government led by a determined leadership that reveres its constitutional responsibility, and equally demands accountability and results from every government official is at the helm. Thank God unity has a partner in the federal government now.
The Minister's visit is a devastating blow and a crushing defeat to the secessionist and their partisans' agenda of misleading the world and wanting to divide Somalia into small tribal enclaves, particularly the secessionist in the North. Their quest for the unattainable independent state has indeed hit a snag. The proverbial expression of "the emperor has no clothes" must be reverberating everyone's ears in Hargeisa tonight.
The Honourable Minister's itinerary is full for the coming few days. His stay in the region is short, nonetheless, his work is cut out for him. We wish him all the best.
ALLSANAAG.COM