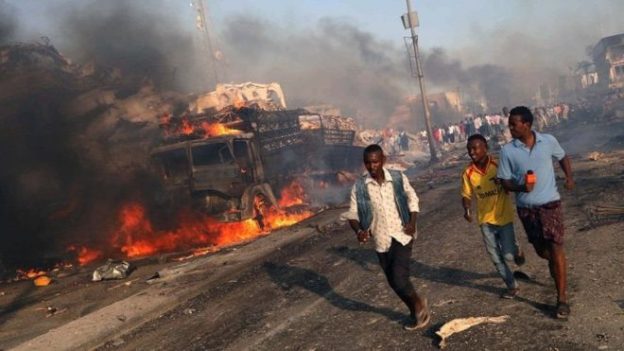 5th December 2023 admin Category :
December 8, 2017
(CBS News) A former member of U.S. military intelligence is helping fight one of the deadliest terror groups in Africa. He is also a pioneer in the U.S. military's use of drones and is now using that expertise to help Somalia in its fight against the Al-Qaeda-linked terror group al-Shabab.
The threat of unpredictable violence is ever-present in Somalia. Al-Shabab's reach is vast and it is one of the most organized and dangerous of Africa's militant groups, reports CBS News correspondent Debora Patta.
Al-Shabab no longer controls the crumbling city of Mogadishu, but has still been able to wreak havoc with its relentless bombing campaigns. Their weapon of choice has been the vehicle bomb, like the one used with devastating effect on October 14 killing over 500 people in the capital.
CBS News has been told repeatedly that al-Shabab has eyes and ears everywhere. The group's members blend easily into local communities, and a seemingly quiet road may not look very menacing but can turn nasty in an instant.
Former U.S. military intelligence officer Brett Velicovich wants to change that. He has donated commercial drones to the Somali police force and is training them to use the technology to combat al-Shabab.
"When they go into different areas to clear parts that are under Shabab control, they will actually fly those drones low and in front of them to look out for roadside bombs," Velicovich said.
Another al-Shabab tactic is to plant one bomb then, as first responders arrive, detonate another, killing everyone who rushed to help.
"The investigators will actually go out and they'll fly our drones and they'll make sure that the area is safe for first responders to come into," Velicovich said.
Somali intelligence has told us that al-Shabaab continues to practice its bomb-making skills over and over until they get it right.
Al-Shabab footage shows how they test one of their bombs on an African peacekeeping convoy. Drone technology could help thwart attacks like these.
"It significantly alters the way they can do counter-terrorism work?" Patta asked.
"Exactly. I mean, imagine walking into a situation where you don't know if the people in the house or the compound have weapons or if they have explosives, but if you could see from the air what you are about to walk into, that changes the game," Velicovich said.
Al-Shabab's bombs are increasingly more complex and more powerful. Simple drone technology could provide a much needed boost for the over-worked, under-resourced Somali counter-terrorism units.