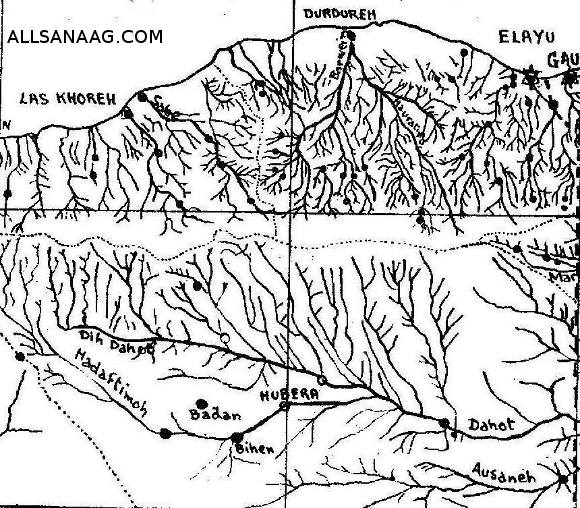 24th March 2019 admin Category :
lixdankii ka hor Isaaq iyo Warsangeli yaa dawlad madax banaan ahaa?
Warsangeli Heshiiska uu la galay Boqortooyada Ingiriisku waa ka duwan yahay heshiisyada kale oo dhan marka la eego xagga awooda saxiixa, madaxbanaanida loo ogolaa, maamulkood gaarka ah iyo qodoba kale u ku jira heshiisyada qabaa'ilka kale oo laga saaray ama waxa laga bedelay markii Warsangeli lala gelayey.
Heshiiska Warsangeli waa kan keliya oo uu saxiixay Suldaan Guud oo loo aqoonsan yahay hogaanka qabiilkiisa iyo maamulka dhulkiisa.
Heshiisyada kale odayaasha saxiixayaa ma le awoodaa, loomana aqoonsan markay wax saxiixayeen. Aqoonsiga la siiyey Suldaanka iyo Maamulkii Ardaaga Odayaasha Warsangeli si loo dhawro nidaamkoodii ismaamulka ee casriga ahaa waxa Ingiriiska khasab ku noqotay inuu si gaara ula galo wada hadal Odayaasha Warsangeli. Taasi waxay keentay in heshiiska Warsangeli laga ilaaliya waxkasta oo xornimadooda, maamulkooda, ku xadgudubka dhulkooda iyo iska soo gelida badooda laga ilaaliyo. Waa laga wada saaray heshiiska Warsangeliga qodobada heshiisyada qabaa'ilka kale ku jira ee wax u dhimi kara arrimahaa.
Heshiiska  Warsangeli waxa laga saaray odhaahda "the maintenance of our independence, the preservation of order …… "  oo ah in xejintta xornimada iyo ilaalinta nidaamka iyo kala dambeynta dhulka gacanta loo geliyo Dawlada Ingriiska. Qabaa'ilka Waqooyiga ee heshiisyada saxiixay way ogalaadeen taa laakiin Odayaasha Ardaaga Warsangeli waa diideen waana laga saaray heshiiskooda. Warsangali waxaa loogu bedelay, hadday baahiyi timaado, in Warsangeli gacan siin doonaan hawlaha gaarka ee sarkaalkaa loo diro iyagaa ka wada shaqeynaya iyaga iyo Warsnageligu arrimaha caddaalada,  horumarinta kheyraadka dalka, ganacsiga, iyo arrimaha la xidhiidha nidaamka, dawlad wanaaga iyo horumarinta guud ee ilabxnimda caalamka. Faahfaahintaa dheer oo tilmaamay sida dawlada Ingiriisku u aragtay in ay Warsangeli yihiin maamul adduunka wax ku soo kordhin kara oo ay aqoonsatay nidaamka iyo horumarka Saldanada Maakhir gaartay ayey garteen iney heshiiskooda sidaa u dhigaan oo deegaanka maakhir ka dhigaan "country" halka heshiisyada kale laga dhigay qabiil wax  lala saxiixda oo laga xayuubiyey xornimadoodii oo Boqortooyada Ingiriisku ilaalineyso.
Maadaama awood xagga badda ah oo weyn Warsangeligu ay lahaayeen Ingiriisku wuxuu kaloo ka saaray odhaahda "All vessels under the British flag shall have free permission to trade at all ports and places within …" oo ah in maraakiibta wadata calanka Ingiirsku la siiyo ogalaasha furan oo ah iney siday doonaan uga ganacsan karaan xeebaha iyo goobaha qabiilka. Maadaama nidaam iyo kala dambeyn ay leedahay Saldanada Maakhir waxay diideen in ay Boqortooyada Ingiriiska uu ogalaadaan iney maraakiibtoodu xeebahooda iska soo galaan oo dhulkooda ka ganacsadaan iyagoo aan ogolaasha Odayaasha Ardaaga Warsangeli ka heysan. Laakiin qabaa'ilka kale dhulkooda iyo xeebahooda sidii la doonaa laga yeelayey.
Waxay kaloo Ardaaga Odayaasha Warsangeli xilligaa dalbadeen in aan heshiiskoodu noqon mid furan oo suldaanada isbedelayaa dhaxlaan. Waxay diideen odhaahda qabaa'ilka kale oo dhan heshiisyadooda la raaciyey oo ah in iyaga iyo kuwa ay sii dhalaan oo dhulka dhaxli doonaa ay khasab ku tahay iney ilaaliyaan heshiiskaa waa " their heirs and successors ."
Waxa la yaab le xeel-dheerida iyo garashada fog ee Ardaaga Odayaasha Warsangeli ee xilligaa. Maanta looyarada ama Qareemada  joogaa sida ay
Ardaaga Odayaasha Warsangeli heshiiskoodu ugu adkeysteen inuu ka duwanaado qabaa'ilka kale iyo in aan ismaamulkooda la taaban karin oo xornimadooda wax loo dhimin, in sidii dal "Country"loola galo,  in aan doonyaha iyo maraakiibta Ingiriisku iska soo geli karin dhulkooda, in aan dadka hoos yimaada Boqortooyada Ingiriiksu iska dhex mari karin iyo inaan heshiisku noqon mid furan oo Sultaan uu Sultaan ka dhaxlo.
Heshiiskaa Odayaasha Ardaaga Warsangeli ka shaqeeyeen xilligaa maanta ma sameyn karaan kuwa jooga oo xirfadaa iyo xeel dheeridaa la yaab kale oo ay xitaa ku darsadeen awooda ah in haddii Suldaan cusubi yimaado oo Ardaaga Odayaasha Warsangeli iyo Suldaanku isla gartaan in ay ka baxaan ay jebin karaan halka Soomaalida kale ay khasab ku tahay iney weligood Boqortooyada Ingiriiska ku hoos jiraan.
HERE IS THE WARSANGELI TREATY WITH THE BRITISH GOVERNMENT:
TREATIES, &c., between the Warsangalis (British Protection; Slave Trade; Wrecks: &c.). – January 27, 1886

The British Government and the Elders of the Warsangali tribe who have signed this Agreement being desirous of maintaining and strengthening the relations of peace and friendship existing between them;
The British Government have named and appointed Major Frederick Mercer Hunter, C.S.I., Political Agent and Consul for the Somali Coast, to conclude a Treaty for this purpose.
The said Major F. M. Hunter, C.S.I., Political Agent and Consul for the Somali Coast, and the said Elders of the Warsangali, have agreed upon and concluded the following articles:-
ART.
I. The British government, in compliance with the wish of the undersigned Elders of the Warsangali, undertakes to extend to them and to the territories under their authorities and jurisdiction the gracious favour and protection of Her Majesty the Queen-Empress.
II. The said Elders of the Warsangali agree and promise to refrain from entering into any correspondence, Agreement, or Treaty with any foreign nation or Power, except with the knowledge and sanction of Her Majesty's Government.
III. The Warsnagali are bound to render assistance to any vessel, whether British or belonging to any other nation, that may be wrecked on the shores under their jurisdiction and control , and to protect the crew, passengers, and cargo of such vessels, giving speedy intimation to the Resident at Aden of the circumstances; for which act of friendship and good-will a suitable reward will be given by the British Government.
IV. The Traffic in slaves throughout the territories of the Warsangali shall cease for ever, and the Commander of any of Her Majesty's vessels, or any other British officer duly authorized, shall have the power of requiring the surrender of any slave, and of supporting the demand by force of arms by land and sea.
V. The British Government shall have the power to appoint an Agent or Agents to reside in the territories of the Warsangali, and every such Agent shall be treated with respect and consideration, and be entitled to have for this protection such guard as the British Government deem sufficient.
VI. The Warsangali hereby engage to assist all British officers in the execution of such duties as may be assigned to them, and further to act upon their advice in matters relating to the administration of justice, the development of the resources of the country, the interests of commerce, or in any other matter in relation to peace, order, and good government, and the general progress of civilization.
VII. This Treaty to come into operation from the 27th day of January, 1886
Allsanaag. com